Music: Baybeats 2012 - Pep Talk at The Arena (Outdoor Theatre) - 1 July, Sunday
By Esplanade On 17 July 2012
by Hanis Ahmad, EY Baybeats-Budding Music Writer 2012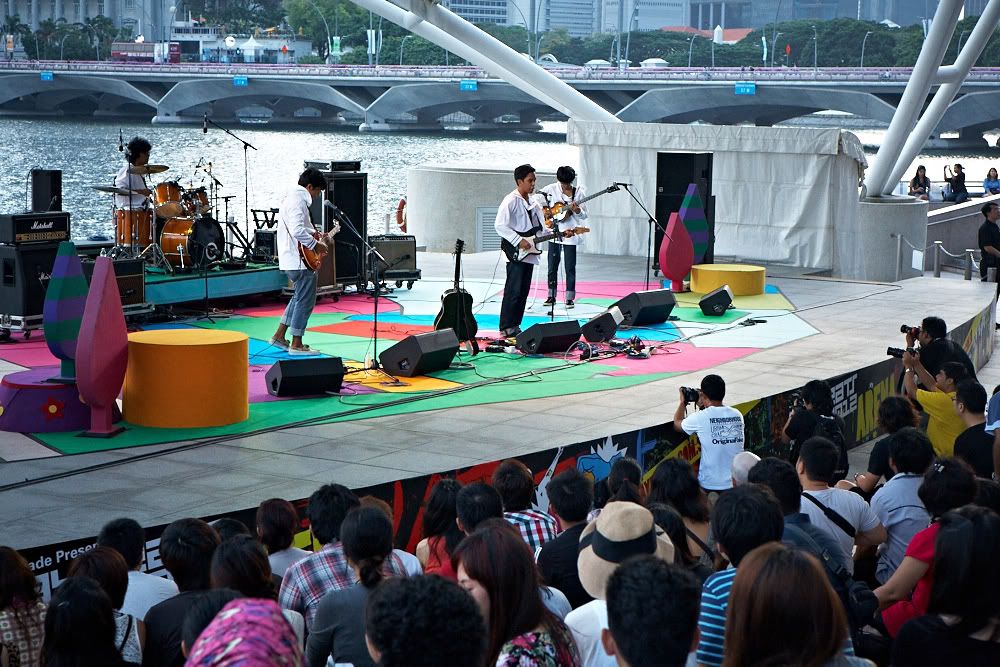 Photo by: Jamie Chan, Baybeats Budding Photographer 2012
Pep Talk is one of the more underrated but highly promising bands among the final eight that were picked to play at Baybeats. They write meaningful lyrics and create moving melodies. Their Baybeats performance really showed their eagerness to play for a receptive crowd.
The boys came out, all dressed in their sailor outfits, a very cute touch in my opinion. There were enthusiastic reactions from a concentrated section of the audience, obviously their family and friends. In general, everyone in the audience seemed pretty excited to watch Pep Talk do their thing.
They kicked off the festival's third day with Morning, a short, slow number which seemed to reciprocate the sentiments of the lovely Sunday afternoon. The songs worth noting were Brothers, a more upbeat number, their relatively autobiographical track, I, Sailor and the very heartfelt, Mom & Daughter. What irked me the most was when they performed I, Sailor as it was a weak transition between the sound effects that was played before it and the song itself. Mom & Daughter felt quite honest, a nice slow number to close the set.
I remember watching them during the second round of auditions and thinking how much they needed to improve their interaction with the audience. Watching them at Baybeats, it was good to see them really having fun with the crowd, even successfully getting them to sing along with them.
Their performance was earnest. It really illustrated their keenness to step up and finally prove themselves. It was simple, just a bunch of boys playing their guitars and drums and singing their hearts out on stage.

Photo by: Asyraf Rasid, Baybeats Budding Photographer 2012
Tags:Baybeats 2012 Baybeats Buzz 2012 EY Budding Music Writers Pep Talk
Bookmark on del.icio.us